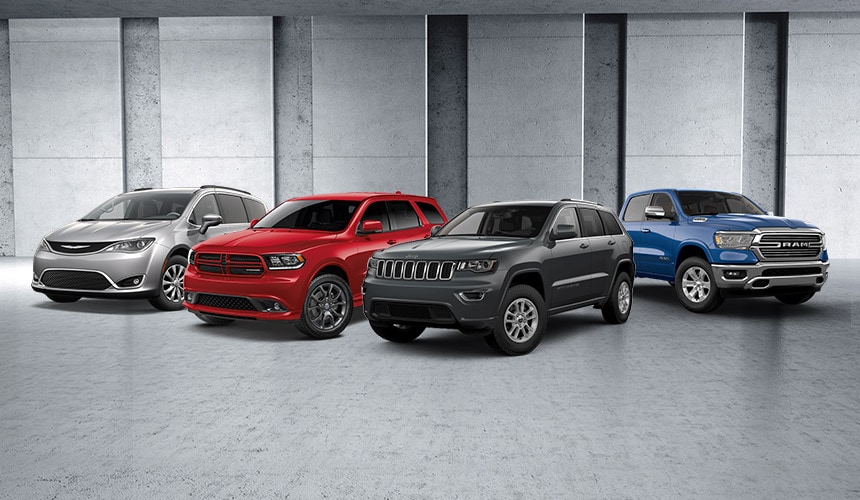 Chrysler Pacifica
The Chrysler Pacifica sets the bar for standards in design, quality, technology and everyday practicality. This makes it
 a versatile, family-friendly car that will make your drive anywhere comfortable and enjoyable. 
Dodge Durango
The Dodge Durango outsmarts the competition with the latest technological features. This rugged, yet refined SUV is great for cruising around town running errands or setting off on a new adventure with the family. 
Dodge Grand Caravan
Offering a blend of modern style and practical engineering, the Dodge Grand Caravan gives you the best of both worlds. The bold exterior gives you a sporty look while the comfortable interior gives a nod towards luxury. 
Jeep Cherokee
The Jeep Cherokee is an exciting take on the classic SUV. The sporty styling features a bold grille, thin headlights, and revamped fascia. Coupled with outstanding performance and the best in safety features, you will be ready to take on the world. 
Jeep Compass
You can hit the road in a moment's notice with this compact SUV. The Jeep Compass makes a perfect off-road capable vehicle for those who love to adventure but still want to run their errands in comfort. 
Jeep Grand Cherokee
The Jeep Grand Cherokee has it all! It delivers on comfort, amenities, and performance with its excellent traction and all-wheel drive systems. The generous safety features and versatile space round off the package and make the Grand Cherokee the perfect car to suit almost any need.
Jeep Renegade
This compact SUV sports modern technology and styling while maintaining the practicality needed for day to day life. The Jeep Renegade has amble space and a comfortable interior to meet all of your needs.
Jeep Wrangler
Sporting a distinct design that sets it apart, the Jeep Wrangler is a vehicle that draws the eye. Equipped with the latest high-tech gadgets and boasting great off-road capabilities, this vehicle really is the complete package for comfort and versatility. 
Jeep Gladiator
The Jeep Gladiator takes adventure to a whole new level. This midsize pickup combines the legendary Jeep capabilities with an innovative design and versatile features to make it an unrivaled choice for bold drivers.
Ram 1500
This full-size light-duty pickup boasts a V8 towing capacity that combines with its aerodynamic build and high bed sides to make a powerful performance vehicle. The Ram 1500 looks great while it works as well with modern styling both inside and out. 
CDJR Model Lineup
We carry a multitude of models to fit all of your needs. Whether you spend your time running around town or off adventuring in the wilderness, we have something just right for you.
Come into
Fox CDJR
today and let us help you find your perfect vehicle!